Treatments
Complimentary Consultations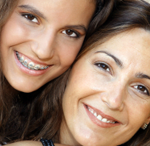 We want to be the ones to help you achieve a great straight smile. Please come visit us for a no obligation, complimentary consultation to discuss your options.
Metal Braces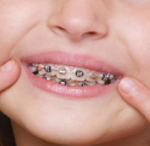 Traditional braces are composed of brackets bonded to the teeth and held together through wires that, over time, serve to pressure the teeth into a straighter position. Though metal braces were the most common type of aligners for decades, advances in orthodontics offer an array of options that give patients more esthetically pleasing and more comfortable alternatives to attaining great results. While traditional metal braces may not be the most visually appealing method of straightening teeth, they do offer significant benefits. They are typically more cost-efficient than other methods and be more effective for patients with severely malpositioned teeth.
Clear Braces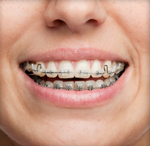 Ceramic braces use brackets that are tinted to match the color of your teeth, making it less noticeable to others that you are wearing braces. The brackets are also built to resist stains, allowing them to blend in with your natural tooth-color for the duration of treatment.
Invisalign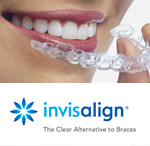 Invisalign® straightens your teeth without wires or braces, using a series of customized, computer-designed, clear sleeves called aligners. The aligners are almost invisible and can be easily removed for eating and brushing your teeth. Convenient, comfortable, and invisible makes Invisalign® a good option for many adults and teens today. Invisalign® allows you to get straight teeth without anyone knowing that you are receiving orthodontic treatment.
Invisalign Teen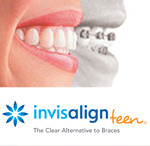 Align Technology went to leading orthodontists, parents, and teens themselves to custom-design an Invisalign® system just right for the dental needs of teenagers.